Autograph Letter Signed J S Fletcher, novelist, detective story writer, to E.H. Broad[b?] ridge [employee of literary agency?], about A Maker of Fortunes. [short story?]
Author:
J.S. Fletcher [Joseph Smith Fletcher] (1863 - 1935) , British journalist and writer.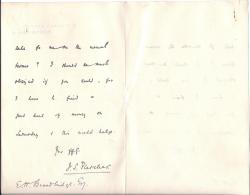 Publication details:
[Partly headed] 7 St Mary's Terrace, Paddington, W. [London], 28 Sept. 1911
SKU: 10627
Two pages, 12mo, remnants of album page to which attached formerly, good condition. I will write to you definitely about teh serial early next week. Do you think you could either get me a cheque for 'A Maker of Fortunes' [not traced], or get Mr Colles [literary agent] to discount the sale to me on the usual terms? I should be much obliged if you could, for I have to find a good deal of money on Saturday & this would help. ...
Keywords:
Phone enquries
RICHARD M. FORD
Tel: +44 20 8993 1235