Autograph Note Signed from the historian Frederic G. Mather to R. E. Thompson, regarding his article on 'Buffalo' in the 'Encyclopaedia Americana'.
Author:
Frederic G. Mather (1844-1925) [Rev. Robert Ellis Thompson (1844-1924), author]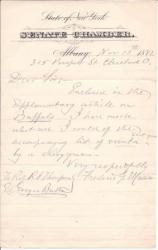 Publication details:
15 November 1882; 315 Prospect St, Cleveland, Ohio, on cancelled letterhead of the Senate Chamber, Albany, State of New York.
SKU: 11141
8vo, 1 p. Good, on lightly-aged paper. A covering letter for 'the supplementary article on Buffalo' (in the 'Encyclopaedia Americana' supplements to 'Encyclopaedia Britannica', 1883-1885, the first two volumes of which Thompson was editor).
Phone enquries
RICHARD M. FORD
Tel: +44 20 8993 1235