[Carte-de-Visite] Photograph [of engraving??; daguerrotype?], head and shoulders of Bridget Winthrop, married to William Maunsell
Author:
[Mrs. C. Flynn, Limerick Ireland, Bookseller and owner of Photographic Studio]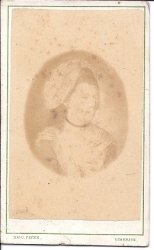 SKU: 12577
Carte-de-visite size, c.6 x 10cm, faded photograph of Bridget Winthrop (or engraving of), sl. spotted, on reverse the following information in MS., Bridget Winthrop married to Wm Maunsell | Mrs Wm Maunsell gt grandmother of H.O. Donnell[MA CLK?] [space] great great Grandmother to Mrs Petronella O'Donnell and to Mr Elliot O'Donnell". [Printed on reverse: Mrs. C. Flynn | Bookseller & Stationer | Circulating Library | Photographic Studio | 20 George Street | Limerick".From the archive of Elliot O'Donnell, Irish ghost-hunter. Note: Limerick: Mrs. C. Flynn, 40, Great George's-street, one of the publishers of "The Celt" (periodical, c.1857). Unusual in being a female bookseller and involved in the new art of photography, I have found no other information about her yet. Image available by request or on my website).
Phone enquries
RICHARD M. FORD
Tel: +44 7884 315 545