[Joseph Cornudet; Revolution Francaise] Autograph Letter Signed "joseph cornudet' "au ministre de finance", seeking a position for a young man from the Jura.
Author:
Joseph Cornudet des Chaumettes (1755-1834), magistrate and politician [French Revolution]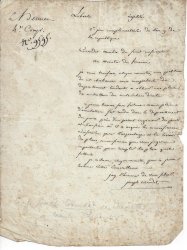 Publication details:
[No date apparent] In French and lower case.
SKU: 20030
See image on my website for full text. One page, cr. 8vo, foxed, minor damage, but text clear. Letter headed "Liberte egalite | [?] jour complementaire de lan g de la republique | Cornudet membre du Senat conservateur au Ministre de Finance| je vous [?], citoyen ministre, une petition du cite chabanne mon compatriote de departement tendante a obtenir une place de controlleur des contributions directes. | ce jeune homme sans fortune mais plein d'emulation s'est rendu dans le department du jura [?] d'un parent ingenieur des ponts et chaussees [? il a acquis les connaissances necessaires pour l'arpantage et la [?] des plans, connaisances que vous jugera importantes pour remplir la place qu'il solicite. | je reclame, citoyen ministre, pour ce jeune homme votre bienveillance ..."
Keywords:
Phone enquries
RICHARD M. FORD
Tel: +44 7884 315 545