[Thomas Frankland and Others; Stirling and Dumbarton Castles] Manuscript [Document[ Signed by Members of Parliament in command of the Ordnance, "Tho[mas] Frankland", Thomas Erle (also distinguished soldier), Thomas Wheate and Edward Ashe
Author:
Thomas Erle, Thomas Frankland and Others [Stirling and Dumbarton Castles]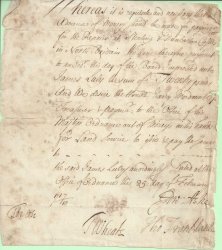 Publication details:
[Office of his Majesty's Ordnance], 25 Feb. 1717/18
SKU: 22515
A fragile survival. One page, 20 x 22cm, small closed tears, foxing, minimal loss of two or three letters, text fully legible as follows: "Whereas it is requisite and necessary that [an?] Advance of Money should be made for paying for the Repairs at Sterling [sic] & Dumbarton Castles in North Brittain. We have therefore pursuant to an Ord[e]r this day of the Board Imprested unto James Luly the sum of Twenty pounds And we desire the Honble Harry Mordaunt Esq. [MP, Treasurer of the Ordnace, Wikipedia] Treasurer & payment to the Office of His Maj[es]tys Ordnance out of Moneys in his hands for Land Service to issue & pay the Same to || the said James Luly accordingly Dated at the Office of Ordnance this 25th day of February 1717/18". On the verso, signed "Bell Jones Attorney for James Luly".Ashe, Erle, Frankland, and Wheate were all Members of Parliament and officers of the Office of Ordnance.
Phone enquries
RICHARD M. FORD
Tel: +44 7884 315 545