[Gaston Palewski; de Gaulle] Typed Letter Signed Gaston Palewski to Monsieur le Professeur Andre Gros, legal advisor to De Gaulle at the time, who counter-signs, referring to an article by Sir John Pollock, and his work in London.
Author:
Gaston Palewski [(1901 – 1984), French politician, close associate of Charles de Gaulle]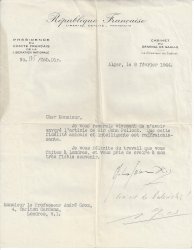 Publication details:
[Printed heading includes] Cabinet du Général de Gaulle, No. 505/Cab.Dir., [date typed] Alger, le 8 février 1944
SKU: 23503
One page, 4to, fold marks, one edge dusted, fold marks, ow good. Je vous remercie vivement de m'avoir envoyé l;article de Sir John Pollock. Que cette fidélité amicale et intelligence est raffraichissante [one f crossed out]. | Je vous félicite du travail que vous faites à Londres, et vous prie de croire a mon tres fidèle souvenir. Underneath Palewski's scrawled signature, Gros has added le ci est de Palewski I I think!) adding his own nearly illegible signature. See image.
Phone enquries
RICHARD M. FORD
Tel: +44 7884 315 545