[Admiral Willian Sidney Smith; Paris Imprisonment] COPY Letter to Lady Camelford (his aunt) in detail about his imprisonment in Paris. Smith's name mispelt (Sydney)
Author:
Admiral Sir William Sidney Smith (1764-1840), British maritime hero of whom Napoleon exclaimed 'That man made me miss my destiny'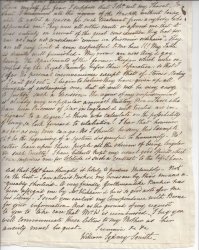 Publication details:
[Headed] Copy of a Letter to Lady Camelford, Tower of the Temple, Paris, 27 August 1796.
SKU: 23673
One page, folio, good condition, laid down on part of an album page (verso has a newspaper clipping about Wilson, the Pedestrian c.1815 - possibly some indication of when the Copy Letter was made). Text: My dear Aunt, | The recollection of my Situation must occasionally present itself to my Friends with redoubled anxiety when brought to Mind by the Accounts from Paris of tumults at the prison doors, Assassinations within the Walls & the whole train of mischief which the Daemon of Sedition & discord is perpetually Waking in this ill fated City! I therefore eagerly embrace an opportunity which offers to satisfy them of my Safety - My health wh. began to suffer from the close confinement I experienced in the Abbaye is reestablished since I have been allowed to take air & exercise in the Court Yard of this Prison which is a Palace in comparison to the former. I was transferred hither on the 3rd of July in conseuqnce of my representation of the badness of the Air at the Abbaye become insupportable [underlined] from the numbers thrown into it on the discovery of the Jacobin conspiracy - My Cell was a dark dismal Hole, I had a Lieutt of the Gendarmerie at my elbow 'pour garder le Monstre a Vue' - I was not allowed to shave myself, for fear I suppose that I shd cut my Throat. In short I underwent all the vigour of the Bastille without being able to extort a reason for such treatment from anybody who approached me. They were all either mute or assured me that it was entirely on account of the great consideration they had for me as I was not considered 'comme un Prisonnier ordinaire' - They were all very Civil and even respectful to me here!!! My Table is decently well furnished - My rooms are now Airy & gay being the Apartments of the former Keeper which were occupied by the Royal Family before their Separation [...]. See Image for the rest of the contents. Note: I've found no evidence that the original letter survives or was eventually published.
Keywords:
Phone enquries
RICHARD M. FORD
Tel: +44 7884 315 545