[Princess Basma bint Talal of Jordan.] Typed Letter Signed to Lady Monckton, thanking her for sending'Comfrey roots' for her family the 'Royal Stables'.
Author:
Princess Basma bint Talal (b.1951), daughter of King Talal and Queen Zein of Jordan, sister of Hussein of Jordan and paternal aunt of the current king Abdullah II [Lady Monckton]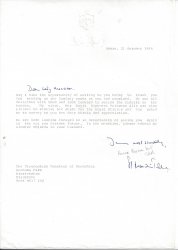 Publication details:
21 October 1986. On her royal letterhead.
SKU: 24072
1p, 4to. Salutation and valediction in the princess's autograph. Stylized signature with Roman lettering. Addressed to 'The Viscountess Monckton of Brenchley' at her estate in Maidstone, Kent. They are all 'delighted' with the 'Comfrey roots' which she sent as promised, and 'look forward to seeing the results on the horses'. 'My niece, Her Royal Highness Princess Alia was also pleased to receive her share for the Royal Stables'. The letter ends with the usual courtesies. See image.
Keywords:
Phone enquries
RICHARD M. FORD
Tel: +44 7884 315 545