[Comte d'Orsay; French Benevolent Society] Autograph Letter Signed Ct d'Orsay to M. le Chevalier, in French, thanks his correspondent for le charmante Poème, discussing the state and progress of the French Benevolent Society just founded.
Author:
Count d'Orsay [Alfred Guillaume Gabriel Grimod d'Orsay, comte d'Orsay (1801 – 1852), French amateur artist, dandy, and man of fashion].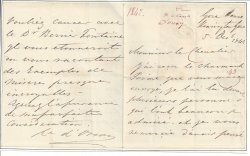 Publication details:
Gore House, Kensington Gore, 5 Dec. 1842. See image.
SKU: 24473
Four pages, 16mo, bifolium, in narrow frame of stiffer paper, good condition. He thanks him for the charmante Poème that he's sent que je l'ai lu devant plusieurs personnes qui l'ont beaucoup admiré, et je vous remercie d'avoir pensé a moi - je vous envoye les Statuts incomplets de notre Societé [French Benevolent Society established this year 1842], car les dernières souscriptions, ni les derniers supports ne sont pas encore imprimés - j'ai assisté hier a une séance de notre comité, et j'ai eu le plaisir de voir que nous avons deja fait un immense bien, considérant nos ressources[.] Si vous vouliez [causer?] avec le Dr Berrier Fontaine [il?] vous etonneroit en vous racontant des Exemples de misère presque incroyables - [...]. Docketed in red ink with year and name of letter writer.
Keywords:
Phone enquries
RICHARD M. FORD
Tel: +44 7884 315 545