[Joseph Masclet; Lamartine; SNCF; Railway History] Autograph Letter Unsigned, ascribed to Joseph Masclet, with attributable content (Note below), to a Monsieur Mollard about early English Railways and his article of use to 'l'institut'.
Author:
[Amé Thérèse Joseph Masclet (1760 - 1833) was a French diplomat and an author of letters to Lafayette.]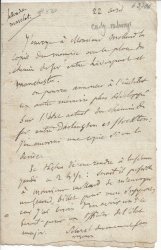 Publication details:
No place, 22 Avril [1829]
SKU: 24727
One page, 12mo, unsigned, bifolium, good condition. Note by another hand in top left corner, lettre de Masclet. Text (unsigned): J'envoye a Monsieur Mollard la copie du memoire sur la place du chemin de fer entre Liverpool et Manchester. | On pourra annoncer a l'institute un autre memoire plus developpe sur l'etat actuel du chemin de fer entre Darlington et Stockto: j'en enverrais une copie si on la desire. | Je [?] de me rendre [la france jeudi?] a 2 h 1/2: serait il [possible?] a Mondieur Moll;ard de m'envoyer un second billet pour mon support, car j'ai besoin d'en avoir [un?]. Ce serait pour [?]. See image for full text. Note: Masclet refers to the following articel: Avis important aux constructeurs de routes par M. le Chevalier Maclet, Journal des Genie Civil des Sciences et des Arts, vol.3, p.207 (1829).
Phone enquries
RICHARD M. FORD
Tel: +44 7884 315 545