[Noel Coward] Autograph Note Signed Noel Coward to a Miss Weeds, apologising for having no photograph!
Author:
Noel Coward [Sir Noël Peirce Coward (1899 – 1973), playwright, composer, director, actor, and singer, known for his wit, etc]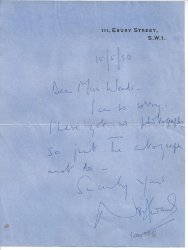 Publication details:
[Printed address] 111 Ebury Street, SW1, 15 May 1930.
SKU: 25046
One page, 12mo, blue paper, good condition. See Image. I am so sorry - I have got no photograph so just the autograph must do -.
Phone enquries
RICHARD M. FORD
Tel: +44 7884 315 545