[Kate Greenaway, artist] Substantial Autograph Letter Signed Katie to My dearest Joanie [Joan Ponsonby?] . She is writing as if to a child.
Author:
Kate Greenaway [Catherine Greenaway (1846 – 1901), Victorian artist and writer.]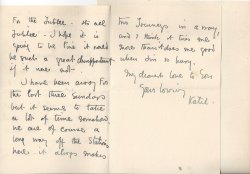 Publication details:
[Embossed address] 39, Frognal, Hampstead, N.W., 5 June 1897. Note above address from Kate Greenaway.
SKU: 25058
Three pages, 12mo, bifolium, good condition. Second leaf laid down on part of a album page. See Image of pp.2 & 3. Text: You write to me and I dont [sic] answer. but I know you hear of me From [sic] his letters - which I just manage to send though I fear . [sic] they most often be very dull. | Are you coming up For the Jubilee - its all Jubilee - I hope it is going to be Fine [sic] it would bve such a great disappointment if it was not. | I have been awayFor [sic] the last three Sundays but it seems to take a lot of time somehow . We are of course a long way off the station here. it [sic] always makes two Journeys in a way, and I think it tires me more than it does me good when I'm so busy. | My dearest love to you | Your loving | Katie.Note: Item detached from Meredith family album mainly containing letters from distinguished contemporaries such as Henry James, Thomas Hardy, Clemenceau, etc etc. which are separately catalogued. This letter was, as you see, not addressed to a Meredith. If the correspondent is Joan Ponsonby, she was the model for 'Joan Ponsonby, 1891' by Kate Greenaway. Victorian girl in garden.
Phone enquries
RICHARD M. FORD
Tel: +44 7884 315 545