[Jo Grimond, Scottish Liberal Party politician.] Autograph Card Signed acknowledging receipt of twenty pounds from Hanson Books.
Author:
Jo Grimond [Joseph Grimond, Baron Grimond] (1913-1993), Scottish Liberal Party politician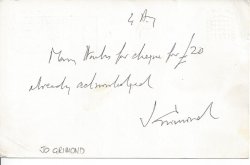 Publication details:
4 August [1978]. 'Official Paid' card printed with 'House of Commons'.
SKU: 25139
See his entry in the Oxford DNB. From the papers of Philip Dosse (1925-1980), proprietor of Hansom Books, publishers of several arts magazines. Presumably acknowledging payment for a review in 'Books and Bookmen'. On plain 'House of Commons' postcard. In fair condition, lightly aged and worn, with crease to one corner going through the final flourish of Grimond's signature. Reads: '4 Aug / Many thanks for cheque for £20 already acknowledged / J Grimond'.
Keywords:
Phone enquries
RICHARD M. FORD
Tel: +44 7884 315 545