[Pocahontas; Lyndon B. Johnson [Lyndon Baines Johnson; 'LBJ'], 36th President] Typed Letter Signed, as a senator, regarding a visit to America by 'the rector of St. George's Church at Gravesend' (in England, where Pocahontas is buried).
Author:
Lyndon B. Johnson [Lyndon Baines Johnson, known as 'LBJ'] (1908-1973), 36th President of the United States of America; a Democrat who succeeded John F. Kennedy, to whom he had served as Vice-President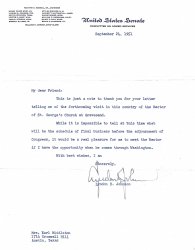 Publication details:
24 September 1951. On letterhead of the United States Senate Committee on Armed Services [Washington, D.C.].
SKU: 25263
The present item is a genuine signature. It has been compared with a number of examples from the 1950s, including one from the same year of 1951, all of which differ, and Johnson is not known to have used an autopen until he became president (in 1968 it was dubbed 'The Robot That Sits In For The President' by the National Enquirer). 1p, 4to. On a leaf of wove paper, with US government American eagle watermark. In fair condition, lightly aged, and folded twice for postage. There is some light wear to the left of the signature, having a negligible effect on its final uptick. Addressed to 'Mrs. Earl Middleton / 1714 Cromwell Hill / Austin, Texas'. The significance of Gravesend in Kent to the United States lies in the fact that this is where Pocahontas died and St George's is where she is buried (though the actual location has not been known since the church was rebuilt following a fire in the nineteenth century). The letter reads: 'My dear Friend: / This is just a note to thank you for your letter telling me of the forthcoming visit in this country of the Rector of St. George's Church at Gravesend. / While it is impossible to tell at this time what will be the schedule of final business before the adjournment of Congress, it would be a real pleasure for me to meet the Rector if I have the opportunity when he comes through Washington. / With best wishes, I am / Sincerely, / [autograph signature] Lyndon B Johnson / [typed] Lyndon B. Johnson'. See Image.
Keywords:
Phone enquries
RICHARD M. FORD
Tel: +44 7884 315 545