[Enoch Powell, Conservative and Unionist politician, controversial after his 1968 'Rivers of Blood' speech.] 14 Typed Letters Signed, with one in Autograph and five other items, to Philip Dosse, regarding his reviewing for 'Books and Bookmen'.
Author:
Enoch Powell [John Enoch Powell] (1912-1998), Conservative and Unionist politician, a controversial figure after his 1968 'Rivers of Blood' speech on immigration [Philip Dosse (c.1924-1980)]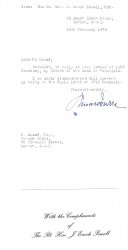 Publication details:
Of Powell's fifteen letters: 2 from 1973, 10 from 1974, 1 from 1975, and 2 (including one in autograph) from 1976. On letterheads of House of Commons and 33 South Eaton Place, London, S.W.1.
SKU: 25407
See his entry in the Oxford DNB. From the archives of Philip Dosse, proprietor of Hansom Books, publisher of the 'Seven Arts' group of magazines, including 'Books and Bookmen' and 'Plays and Players'. See 'Death of a Bookman' by the novelist Sally Emerson (editor of 'Books and Bookmen' at the time of Dosse's suicide), in Standpoint magazine, October 2018. The twenty items are in good condition, lightly aged. Of Powell's fifteen letters (all signed 'J. Enoch Powell') five on House of Commons letterheads, four on his Eaton Place letterhead, and the others with the latter address typed. The letters deal with his review work in businesslike style, of which the following, on 13 June 1974, gives a good indication: 'Should a book published by David and Charles, entitled "Leadership in War" by Brig. Sir John Smythe, VC, come your way, I would be glad to be in the market for reviewing it. No reply needed. I know you would bear this in mind.' Six days later he writes: 'I am returning the Richard Rose herewith. I took a spot check by looking up the reference to "Powell, Enoch". There are six, of which however the last is a misprint. I think if you will apply the same test to the remainder you will understand why I would rather not review the book. / John Smythe V.C. has duly arrived and is in hand.' A sixteenth item is an unsigned typed letter from Powell, addressed in his autograph to 'Dear Mr Dossé' [sic], proposing a work he has been sent for review. There are also two Typed Letters, both ostensibly signed by Powell's handwriting 'Peter Clarke' (the handwriting differs), one regarding Powell's 'VAT number' and the other the sending of a portrait photograph which he 'hopes will meet the purpose mentioned in your letter'. The last two items are duplicates of Powell's copperplate compliments slip. See sample image.
Keywords:
Phone enquries
RICHARD M. FORD
Tel: +44 7884 315 545