A Plain Tale.
Author:
[Eimar Ultan O'Duffy (1893-1935), Irish satirical writer]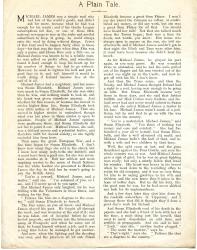 Publication details:
Undated; place and printer not stated.
SKU: 5378
One page, in two 62-line columns. Octavo leaf with blank reverse. Good, on lightly aged paper with slight nicking and creasing to edges. Satirical account of 'simple soul' Michael James's dealings with his hypocritical neighbour Susan Elizabeth, who hands him a white feather when he refuses to enlist in the British Army during the Great War. On 'the Day' of the Easter Rising James fights and is wounded and 'thrown into the interment camp at Frongoch'. Susan Elizabeth then becomes 'a great Sinn Feiner. 'Her house was always open to anyone on the run, she told me afterwards, and if Michael James couldn't get in that night the Black and Tans were after him, it must have been because she didn't hear his knock.' James was 'wounded twice in ambushes, and he had the nails pulled out of his fingers and his arm twisted out of the socket one night up in the Castle, and how he got off with his life I don't know.' After 'the Truce' Susan Elizabeth becomes 'very fierce': 'she said that Arthur Griffith and Mick Collins were traitors, and Ireland never had and never would submit to Saxon rule, andn she called Michael James a traitor to his face.' 'Well, the split came at last, and the guns thundered against the Four Courts'. After James rejoins his old company, and is shot him down by the roadside in Tipperary, Susan Elizabeth comments that he is 'a disgrace to the country'. This scarce item, which does not feature in Andrew Carl's 'The Works and Politics of Eimar O'Duffy; A Bibliographical Biography' (M.Phil thesis, 1986), is presumed to be by O'Duffy because of the presence of three copies in the O'Duffy family archive (see item 8.(39). on p.15 of Richard Ford's 'Eimar O'Duffy (1893-1935), "Ireland's only modern prose satirist": the family archive'.
Phone enquries
RICHARD M. FORD
Tel: +44 20 8993 1235