Statement of Facts, illustrating the Administration of the Abolition Law, and the Sufferings of the Negro Apprentices in the Island of Jamaica.
Author:
[Dr. A. L. Palmer, late Special Justice in Jamaica] [the abolition of the slave trade; West Indies; slavery]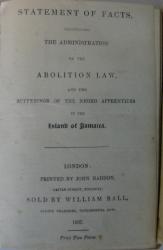 Publication details:
London: Printed by John Haddon, Castle Street, Finsbury. Sold by William Ball, Aldine Chambers, Paternoster Row. 1837.
SKU: 7283
12mo: 36 pp. Stitched. In twentieth-century card wraps. Good, with a little light spotting, on aged paper. Note, dated 'December 30th, 1837.', on last page, attributes the work to Palmer. Scarce: half of the ten copies listed on COPAC are facsimile or microfilm editions.
Phone enquries
RICHARD M. FORD
Tel: +44 7884 315 545