Spoof notice by 'T. N. Mitchell, Benson, Henley', regarding the death of an 82-year-old 'Wireless Dealer' who is said to have left a fortune of £50,000', with signed inscription by Mitchell on reverse.
Author:
T. N. Mitchell of Benson, Oxford [Blows, printer, Henley; spoof; hoax]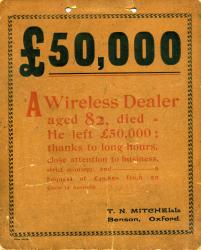 Publication details:
Dated by Mitchell in manuscript 'Xmas 1930'. Printed by 'BLOWS, HENLEY'.
SKU: 7453
On a piece of brown card roughly 250 x 200 mm. Designed to be hung from two punch holes at head. Worn and aged, but with text (printed in red and black within a decorative border) clear and entire. A clever and amusing spoof, deliberately old-fashioned typographically in a parody of 'improving' texts. Reads '£50,000 | A Wireless Dealer aged 82, died - He left £50,000; thanks to long hours, close attention to business, strict economy, and - a bequest of £49,650 from an Uncle in Australia | T. N. MITCHELL | Benson, Oxford.' Inscribed on the reverse 'Xmas. 1930. | With my Best Wishes and Thanks, | [signed] Mitchell'.
Phone enquries
RICHARD M. FORD
Tel: +44 20 8993 1235