Two Christmas keepsakes: 'Literary Characters', with drawings by Edwin Baker; and 'Imaginary Conversations', with cover design by Hans Tisdall.
Author:
Jonathan Cape Limited, London publishers [Edwin Baker; Hans Tisdall; Alden Press, Oxford]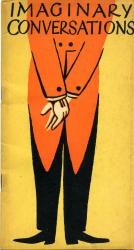 Publication details:
Literary Characters': 1954, 'Printed in the City of Oxford at the Alden Press on paper mould-made supplied by Spalding & Hodge Ltd.' 'Imaginary Conversations', 1956, 'Printed in Great Britain in the City of Oxford at the Alden Press'.
SKU: 7754
Literary Characters'. 12mo (leaf dimensions roughly 18 x 12.5 cm): 32 pp. Stitched with brown thread. Fore-edge and top-edge rough. Unbound as issued. Very good. Cartoon in red ink of man seated at typewriter on front cover, and another, in black ink, of a hatted-figure skulking away with a walking stick held behind his back on back cover. Initial note, with publisher's colophon, on p.2: 'This series of Literary Characters appeared in Now & Then numbers 77-87 and is here reprinted by Jonathan Cape Limited for their friends | Christmas 1954'. 'Imaginary Conversations': 12mo (dimensions roughly 18 x 10 cm): 20 pp. Stapled. In original decorative wraps printed in black, yellow and orange, with illustration on front of rear view of man in evening dress from waist down; similar back view of lower part of woman's torso on reverse. Good, on lightly-aged paper; wraps a little grubby. Note (p.2) reads: 'These seven conversations are selected from the series which has been published in Now and Then. They are here reprinted privately for the friends of Jonathan Cape at Christmas 1956.' No copies of 'Imaginary Conversations' on COPAC, and the only copy of 'Literary Characters' at Cambridge.
Phone enquries
RICHARD M. FORD
Tel: +44 20 8993 1235