Typed Letter Signed ('Holbrook Jackson') to G. S. Tomkinson of Whitville, Kidderminster.
Author:
George Holbrook Jackson (1874-1948) [Sir Geoffrey Stewart Tomkinson (1881-1963); Lovat Fraser; Flying Fame; Fleuron; New Age Press; fine printing; bibliography]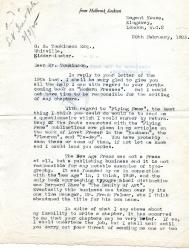 Publication details:
26 February 1925; Regent House, Kingsway, London, W.C.2.
SKU: 8107
8vo: 2 pp. 32 lines of text. Good, on lightly-aged paper. He is willing to help Tomkinson with his book 'Modern Presses', but would not 'have time to be responsible for the writing of any chapters'. Offers to answer 'a questionnaire' regarding 'Flying Fame', and directs Jackson to his 'articles on the work of Lovat Fraser in the "Bookman", the "Fleuron", and "To-day".' Paragraph discusses the 'New Age Press', which 'was not a Press at all, but a publishing business'. In the last paragraph changes his mind, and offers to write a brief chapter. 'I would undertake the job, but I shall wait until you carry out your threat of sending me one or two specimens of the sort of chapters you are including.' The projected work discussed in the letter is unclear, but Tomkinson himself published 'A select bibliography of the principal modern presses, public and private, in Great Britain and Ireland' in 1928.
Phone enquries
RICHARD M. FORD
Tel: +44 20 8993 1235