Darkest Africa And An Easy Way Out.
Author:
W. L. Warden [Harold Sidney Harmsworth (1868-1940, 1st Viscount Rothermere]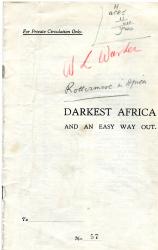 Publication details:
[1940.] 'For Private Circulation Only.' ['Printed by Warden & Co. Ltd., 71, Church Road, Hendon, N.W.4.'] [Introductory note by Warden dated '38, Portland Place, London, W.1. March, 1940.']
SKU: 8395
8vo: 12 pp (unpaginated). Wraps and stapled. Fair: on aged and lightly-creased paper. A few marks in pencil and red pencil (on two occasions 'my "Owner" ' in the text noted as 'Lord R.'). Stamped with limitation number 57. Printed in small type in double column. In his introductory note Warden explains that the text is 'made up of extracts from a diary, which I more or less kept, and letters sent home during a recent voyage of 20,000 miles. Starting in London, we went to Venice, Port Said, Massowah, Aden, the ports on the East Coast of Africa, Johannesburg, Durban, Madagascar, Reunion and Mauritius in the Indian Ocean, then back to Zanzibar and Mombassa. | From Mombassa we came home via Nairobi, Equatorial Africa, the Sudan and Egypt, following the Nile practically from its source to its mouth in the Mediterranean. | We have been absent for about four months'. Notes that his 'exit from the haunts where "newspaper niggers" mostly congregate was sudden'. Full itinerary (with mileage totalling 18,281) on reverse of title. Begins by explaining the context: 'my "Owner" had a big case in the Law Courts in the months of September anad October. [...] During the case one evening my former "Owner" said to me, "When this is over we will go away together and have a rest." | I thought he had his villa in the South of France in mind, [...]' Scarce: no copy in the British Library or on COPAC.
Phone enquries
RICHARD M. FORD
Tel: +44 20 8993 1235