Autograph Note Signed ('W. Jenner') to 'My dear Mrs. Lennith'.
Author:
Sir William Jenner (1815-1898), English physician who discovered the distinction between typhus and typhoid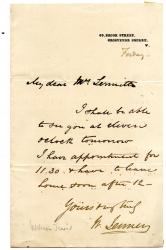 Publication details:
Friday' (no date); on letterhead of 63 Brook Street, Grosvenor Square, London W.
SKU: 8507
12mo, 1 p. Good, on lightly-aged paper. He writes that he will 'be able to see you at eleven oclock tomorrow[.] I have appointment [sic] for 11.30 & have to leave home soon after 12 -'.
Phone enquries
RICHARD M. FORD
Tel: +44 20 8993 1235