Pamphlet advertising ''Mr. Joseph Hatton's Dramatic Reading, founded upon his Great Society Novel of English Life and Manners, entitled "The Queen of Bohemia." '
Author:
Joseph Hatton (1841-1907), English novelist and journalist [Victorian monologues; nineteenth-century dramatic readings; The Palace Hotel, Buxton]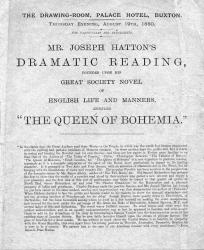 Publication details:
The Drawing-Room, Palace Hotel, Buxton. Thursday Evening, August 19th, 1880.'
SKU: 8563
4to, 8 pp. Stitched pamphlet on grey paper. Text clear and complete. Good, though somewhat creased, and a little stained. In small type. Divided into two sections: 'Selections from the opinions of the London press' and 'Selections from the opinions of the provincial press'. In a long quotation on the front page: 'Charles Dickens made the practice famous, and Mr. Joseph Hatton has begun his platform career in the same modest, careful, and unpretentious way [...]'. (p.1, 'From General Press Notices').
Phone enquries
RICHARD M. FORD
Tel: +44 20 8993 1235