Autograph Letter, third person, in French, to "Monsieur Disderi", French photographer
Author:
Duke of Nemours [Le Duc de Nemours]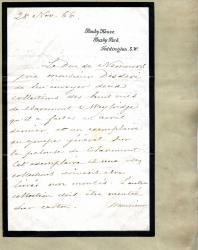 Publication details:
Bushy House, Bushy Park, Teddington, SW, 28 Nov. 1866
SKU: 9113
Two pages, 8vo, bifolium, blank second leaf laid don on stiff paper, c.21 x 27cm, good condition.. He asks Disderi de lui envoyer deux collections des huit vues de Claremont [an earlier refuge in England] & Weybridge qu'il a fait en avril dernier, et un exemplaire du groupe general sur la pelouse de Claremont." He doesn't want the latter mounted but "l'autre collection doit etre montee sur carton." He asks for a "note au compte" made out to him. Note@ Apparently Disderi pioneered the carte de visite.
Phone enquries
RICHARD M. FORD
Tel: +44 20 8993 1235