Autograph Note Signed "E. Lynn Linton", novelist, to "Mr Wright".
Author:
Eliza Lynn Linton, novelist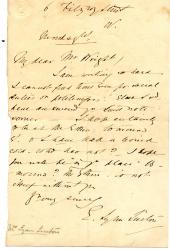 Publication details:
6 Fitzroy Street, [London] W., no date.
SKU: 9319
One page, 12mo, edge trimmed with minor loss of text. She is working too hard to find time for "social duties or politenesses" She will be at a certain place the following day. She has a cold "who has not?") abnd asks whether he will be in his "place" the following day.
Phone enquries
RICHARD M. FORD
Tel: +44 20 8993 1235