Typed Letter Signed by Bruce Long, concerning the William Desmond Taylor murder case, together with the first issue of Long's pamphlet 'Taylorology'.
Author:
Bruce Long [William Desmond Taylor (1872-1922); Taylorology]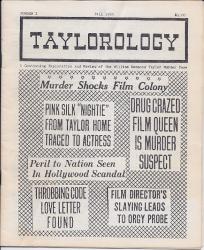 Publication details:
Letter: 10 January 1986; Mesa, Arizona. Pamphlet: Number 1, Fall 1985.
SKU: 9525
Letter: 4to, 1 p. Twenty-six lines. Text clear and complete. On aged and worn paper, with a couple of holes, light staining and indentations. Addressed to 'Jon', whose book, with a 'chapter pertaining to the Taylor case' Long 'would like very much to see'. Long encloses the copy of 'Taylorology', of which he writes, 'Despite my intentions, there was only one issue due to very poor response -- only a dozen subscribers.' He boasts that his 'collected material on this case', 'primarily newspaper clippings', 'weighs over 30 lbs., with more information coming in every week'. He mentions the fact that the director King Vidor was 'working on a book for many years', and that his research has 'passed into the hands of Sidney Kirkpatrick, with a book of their material, 'A Cast of Killers', on the verge of publication. He has himself been contacted by Douglas Whitton, 'a Canadian who has been researching the case for 8 years and working on his own book'. They have decided to collaborate, with a book due to appear in 1987. A strip of paper with the letter carries a 'list of a few additional publications which came to my attention after the newsletter was published'. Pamphlet: 4to, 24 pp. Stapled. In fair condition, on lightly-sunned and stained paper, with crease to front cover. Strapline reads 'A Continuing Exploration and Review of the William Desmond Taylor Murder Case'. Printed in double-column. Long describes the 'purpose of Taylorology' as to act as a 'forum' and 'focal point', as well as to 'reprint rare old newspaper material on the case'. The magazine contains an 'Introduction to Taylorology', a seven-page account of Taylor's inquest, sections on 'Wallace Smith', 'Taylor's Words', 'Celebrities' and 'Humor', and a 'Bookshelf'. A cartoon relating to the case, from the Pittsburg Sun, 11 February 1922, is reprinted on a full page, and a diagram of the murder scene, from the Los Angeles Record, 2 February 1922, is also reproduced. Two more printed issues followed this one, and in 1993 the magazine became an online publication. It has garnered praise as an invaluable resource for those interested in the case and the early days of Hollywood. This item is, as Long points out in his letter, scarce, only a dozen individuals having subscribed to the first issue. In the first online issue, Number 4, Long states that he has 'no present plans to reprint' Numbers 1 to 3. No copies on COPAC, and the only copy on WorldCat at Bowling Green State University in Ohio.
Phone enquries
RICHARD M. FORD
Tel: +44 20 8993 1235