Autograph Letter in the third person from Henry Edward Manning, Archdeacon of Chichester, later Cardinal Manning, giving instruction to his tailors, Messrs John Stulz and Samuel Housley of Clifford Street, London.
Author:
Henry Edward Manning (1808-1892), Archdeacon of Chichester in the established church, and Roman Catholic Cardinal Archbishop of Westminster [John Lavicount Anderdon (1792-1874); Stulz & Housley]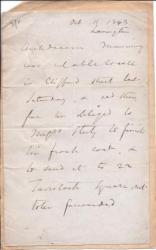 Publication details:
11 October 1843; Lavington.
SKU: 11155
12mo, 1 p. Text clear and complete. On aged and creased paper. As 'Archdeacon Manning was unable to call in Clifford street' on the previous Saturday, he would like 'Messrs Stulz to finish his frock coat, & to send it to 22 Tavistock Square, not to be forwarded.' The address was the home of Manning's brother-in-law John Lavicount Anderdon.
Phone enquries
RICHARD M. FORD
Tel: +44 7884 315 545