[Charles Bestland (Cantelowe Bestland), Royal Academy Schools artist.] Twelve Regency pencil portraits (for engraving?), middle-class sitters including James Millar, Encyclopaedia Britannica editor; Col. Serle; members of Trenchard family of Dorset.
Author:
Charles Bestland (Cantelowe or Cantlo Bestland) of the Royal Academy Schools [Col. Serle; James Millar, Encyclopaedia Britannica editor; John Trenchard Pickard of Dorset]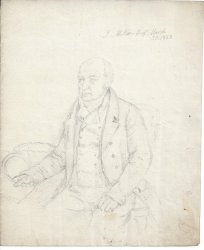 Publication details:
English. The twelve dated in pencil between 1811 and 1829.
SKU: 22666
Twelve pencil portraits executed in the same extremely capable style, probably for the purposes of engraving. Each on a separate piece of 4to paper. All in good condition, with light signs of age and wear, a couple with minor flecking with red paint. All dated in pencil (between 1811 and 1829), and all but two captioned. (Several of the items with watermark date supporting the pencil dating.) Three of the portraits have the tiny signature at bottom left of 'Bestland', and all would appear to be the work of the same artist, although the last appears to be signed with the initials 'C H'. Apparently the work of the artist and engraver Charles Bestland (1763-c.1837), otherwise Cantelowe Bestland, possibly of West End, Hampstead, who entered the Royal Academy Schools in 1779 as 'Cantlo Bestland' and exhibited miniatures from 1783 to 1837. (See the 1802 engraving by 'Cantelowe Bestland' of Henry Singleton's painting of the Royal Academicians in council.) Several embossed with details of a Bath stationers, and a number of the sitters from Dorset, perhaps implying a West Country connection. The last of the twelve is of particular interest, as it is depicts a countryman, while the other eleven portraits are of members of the middle classes. The only sitter of note is the editor of the fourth edition of Encyclopaedia Britannica, James Millar (1762-1827) of the Royal College of Physicians of Edinburgh, lecturer at Edinburgh University. The sketch, in light pencil, is on a 22.5 x 18.5 cm piece of watermarked laid paper, captioned in pencil at top left 'J Millar Esqr. March 20. 1823'. It shows a seated Millar, in early old age, in waistcoat and unbuttoned frock coat, holding a book or papers in his right hand. The only other likeness of Millar noted in his entry in the Oxford DNB, a crayon drawing by John Henning, now in the Scottish National Portrait Gallery, shows a younger Millar in profile, but the set of the mouth and lower face are the same. The other eleven portraits are as follows. TWO: 28 March 1811. 'Mrs Donne' [wife of Rev. Henry Donne (1767-1830) of Cranborne, Dorset, whose obituary see in Gent. Mag., August 1830] Seated shrewd old lady in bonnet. THREE: 20 September 1811. [Head and shoulders of balding old man in buttoned jacket, staring with set mouth at viewer.] FOUR: 30 November 1814. 'Mrs Cooper'. Only the head of a middle-aged woman with ringlets. FIVE: 12 November 1821. 'Mr Trenchard Pickard | Monday November 12 1821 | at Doctors Commons' [John Trenchard Pickard, later John Trenchard Trenchard (d.1875) of Greenhill House, Dorset] Seated owlish young man in stock and buttoned frock coat. SIX: 19 June 1823. 'Robert Belt Esqr' [(d.1839) of the Inner Temple, see obituary in Gent. Mag., February 1840] Signed 'Bestland'. Self-important figure in frock coat, standing with hand on hip. SEVEN: 10 November 1823. 'Mrs Bridge'. Seated portly older woman in bonnet. EIGHT: 18 October 1823. 'Mr W. Trenchard' [William Trenchard (d.1830) of Litchet Maltravers, Dorset, see his obituary, Gent. Mag., January 1830] Signed 'Bestland'. Upper body of seated older man in stock and buttoned jacket, calmly seated with hands clasped on lap. NINE: 21 December 1824. 'Colol. Serle'. [Col. Peter Serle (d.1826),South Hants Militia, of Montague Place, Russell Square, whose daughter married Horace Twiss] Signed 'Bestland'. Seated balding old man, flapping book on right knee. TEN: 6 October 1827. 'Mrs Pain'. Attractive younger woman in bonnet, head finished, with outline of body. ELEVEN: 29 April 1829. [Young man in stock and buttoned jacket, hair somewhat unkempt.] TWELVE: October 1829. [Striking image of countryman with stick, cradling in his arms a broadbrimmed hat while staring at the viewer.] 'At the Revd Prettyman's Sherington'. [i.e. taken at the vicarage of Rev. John Pretyman [sic], Sherington, Bucks] Signed at bottom right 'C H'.
Keywords:
Phone enquries
RICHARD M. FORD
Tel: +44 20 8993 1235