[Irish Independence] Striking original coloured Conservative Party election poster by Halkett, captioned 'Their Irish Master', showing John Redmond, with flag of 'IRISH INDEPENDENCE', leading Asquith, Lloyd George, Winston Churchill by the nose..
Author:
George Roland Halkett (1855-1918), cartoonist [John Redmond; Herbert Henry Asquith; David Lloyd George; Winston Churchill; Irish Home Rule; Eire]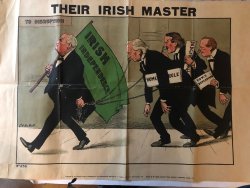 Publication details:
[1910.] 'No. 256. Published by the National Union of Conservative and Constitutional Associations, St. Stephen's Chambers, Westminster, S.W. Printed by Sir Joseph Causton & Sons, Limited, 9, Eastcheap, London, E.C.'
SKU: 23613
Lithograph. Landscape, 51 x 76 cm. In fair though fragile condition and worthy of framing, although aged and with a few small holes repaired. Weakened folds mainly repaired on reverse.. A determined Redmond marches to the right of the picture, large green flag of 'IRISH INDEPENDENCE' over his right shoulder, in his left hand three chains, linked to the noses of Asquith (with 'HOME RULE' paper under his arm), Lloyd George (holding a 'BUDGET BILL') and Winston Churchill (carrying a 'HOME DEPARTMENT' paper), who follow submissively.
Keywords:
Phone enquries
RICHARD M. FORD
Tel: +44 7884 315 545