[Catherine, Duchess of Cleveland, mother of the Prime Minister Lord Rosebery.] Autograph Signature ('C Clevd.') to Typed Note urging 'Dear Jim' to visit her.
Author:
Duchess of Cleveland [Catherine Lucy Wilhelmina Powlett; née Stanhope; also Lady Dalmeny, Lady Harry Vane] (1819-1901), aristocrat, historian, genealogist, mother of Earl of Rosebery, Prime Minister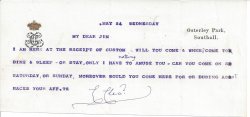 Publication details:
'May 24 Wednesday [no year]'; on letterhead of Osterley Park, Southall.
SKU: 24132
On one side of 19 x 9 cm slip of paper with Osterley Park letterhead with her crested monogram in gold and black. In fair condition, lightly aged. Folded twice. Somewhat shaky and curiously-antiquated signature. Typed note in capitals. One word and a few minor corrections to text in autograph. Reads: 'May 24 Wednesday / My dear Jim / I am here at the receipt of custom - will you come & when? Come to dine & sleep - or stay. Only I have nothing to amuse you - can you come on the Saturday, or Sunday, moreover would you come here for or during Ascot Races your aff.te / C Clevd.' See image.
Keywords:
Phone enquries
RICHARD M. FORD
Tel: +44 7884 315 545