[Elsa Shelley, American dramatist and actress.] Two Typed Letters Signed to theatre historian W. J. Macqueen-Pope, giving and asking for news, and announcing her approaching arrival in England.
Author:
Elsa Shelley (c.1903-c.1971), Russian-born American dramatist and actress, wife of producer Irving Kaye Davis (1900-1965) [W. J. Macqueen-Pope (1888-1960), theatre historian]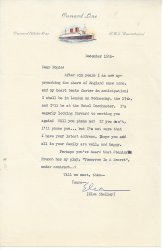 Publication details:
ONE: 7 December 1951; 685 West End Avenue, New York, on her letterhead. TWO: 15 December [1946?]; on Cunard Line letterhead of R.M.S. Mauretania.
SKU: 24135
See the recipient's entry in the Oxford DNB. Both letters signed 'Elsa'. ONE (7 December 1951): 1p, 8vo. In fair condition, lightly aged and worn. Folded three times. Thirty-eight lines of text. She received his letter while wishing to contact him, and wonders if this is a coincidence. 'And my wanting to write you grew out of an intense yearning to be in London again'. She asks after his family, and for information about what writing he has in hand: 'What, if anything, are you "in love with" on the London stage now?' She urges him to make 'a rip to these shores': 'hie yourself and your Stella [his wife] over here, so we can talk, and I'll appoint myself your guide in New York (as you did so thoughtfully in London), and you'll see our lovely Hudson River from my apartment here'. Having previously referred to her 'country home (in Margaretville, New York)', she adds, '(or, if you love the mountains as I do), we could go up to our home in the mountains, and listen to the silence there, and drink deeply of really pure air, and fill our souls with peace.' She ends with an enquiry after 'Swaff' and 'Mrs. Swaffer'. TWO (15 December [1947?]). 1p, 12mo. In good condition, folded twice. Begins: 'After six years I am now approaching the shore of England once more, and my heart beats faster in anticipation!' She will be in London in two days, and will be staying at the Dorchester. 'I'm eagerly looking forward to meeting you again!' After discussing telephone arrangements, and asking after his family, she ends: 'Perhaps you've heard that Stanley French has my play, "Tomorrow Is A Secret", under contract..?' (The Library of Congress gives the play's copyright date as 8 May 1947.) See image (Cunard Headed).
Keywords:
Phone enquries
RICHARD M. FORD
Tel: +44 7884 315 545