['I have never felt more like chucking my hand in': Jack Warner, English actor.] Typed Letter Signed to W. J. Macqueen-Pope ('Popie'), regarding a bad bout of the flu, with signed publicity photograph in the part of Dixon of Dock Green.
Author:
Jack Warner [Horace John Waters] (1895-1981), English actor who played PC George Dixon in film 'The Blue Lamp' and TV series 'Dixon of Dock Green' [W. J. Macqueen-Pope (1888-1960), theatre historian]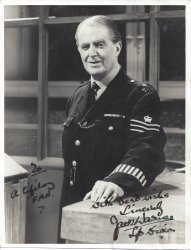 Publication details:
19 November 1957. 9 Courtfield Mews, Courtfield Road, SW5 [London]. On his letterhead.
SKU: 24142
See the entries for Warner and Macqueen-Pope in the Oxford DNB. Such was the popularity of Warner's portrayal of George Dixon, that the Queen told him it had become part of 'the British way of life', and he was carried to his grave by six real officers from Paddington Green Police Station. LETTER: 1p, 4to. Folded twice. In good condition, lightly aged. Signature 'Jack.' and salutation to 'My dear Popie' in Warner's hand; the rest typed. Letterhead with his name. He is sending 'the long promised photos', delayed because he 'had to get some new prints of the "pipe" one. It is the character I play in the film, "Carve her name with Pride", with Virginia McKenna and Paul Schofield. / I look a bit scruffy but I think people get a bit fed up with "tidy" pictures, and anyway it is the character, and after all that is what matters.' He 'just got through the show' on the previous Saturday, before going 'home to bed with "flu". It was a very near thing and I have never felt more like chucking my hand in, but only because I could hardly think or see anybody. What we do for ART, eh? I'd like to meet this fellow Art one of these days.' In a postscript he states that his 'Indian doctor performed a miracle'. PHOTOGRAPH: 16 x 20.5 cm black and white print, with unobtrusive vertical crease. Inscribed 'To / A lifelong "FAN."' and 'With best wishes / Sincerely / Jack Warner / Sergt Dixon'. A smiling Warner, in the part of Police Sergeant George Dixon, stands in uniform with one hand on his desk. See image.
Keywords:
Phone enquries
RICHARD M. FORD
Tel: +44 7884 315 545