Five printed items relating to the Co-operative Holidays Association, including the first three issues in a series of 'Co-Operative Holidays Association General Notes'.
Author:
Co-operative Holidays Association, Manchester [the co-operative movement]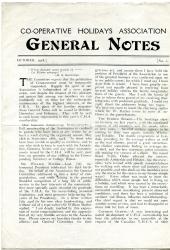 Publication details:
General Notes': October and December 1918, and February 1919. ['Published at the Offices of The Co-operative Holidays Association, College House, Brusnwick Street, Manchester. Printed by The Edgeley Press Ltd., Stockport.' Other items 1918 and 1920.
SKU: 7835
Items One to Three: three 'Co-operative Holidays Association General Notes' pamphlets, all 4pp, on unbound 8vo bifoliums. Text clear and complete, on aged and worn paper, with a 3 cm closed tear to both leaves of the second number. Each issue ends with a long list of 'Rambling Clubs and Secretaries'. Headings of notes include 'One Shilling Literature Subscription', 'Sir William Mather', 'Canadian Guests', 'Personalia'. Also a report of the annual general meeting. The CHA is the subject of a recent paper by Robert Snape ('The Co-operative Holidays Association and the cultural formation of countryside leisure practice', 2004), the abstract of which explains how it was 'founded in 1893 by the Rev. T. A. Leonard, a Congregationalist Minster in Colne, Lancashire. Its aim was to provide organized holidays in the countryside for working-class people as a moral and cultural alternative to the commercial seaside resorts. The Association was not simply a holiday club but a voluntary leisure organization committed to the promotion of specific cultural values. Adopting the work of a number of nineteenth-century cultural critics, notably Arnold, Ruskin and Morris, the Co-operative Holidays Association was grounded upon the concept of the countryside as not only a physical but also a cultural and spiritual alternative to the city and industrial materialism.' Item Four: pamphlet headed 'New Year Re-Unions of Friends who met at C.H.A. centres in 1918.' 3 pp, on unbound 12mo pink-paper bifolium. Good. The first page gives instructions to those wishing to attend the reunions. The second and third pages give addresses of twenty places of reunion, with day, date, time, charge and name and address of secretary. At foot of p.3: 'Sugar cannot be provided.' Item Five: 'Circular Letter' from the Chairman and Honorary Treasurer Sir D. Drummond Fraser. 3 pp, on a bifoliate, leaf dimensions 33 x 21 cm. Dated 30 April 1920. An appeal for loans, towards the cost of 'the new Guest-House at Llangollen, North Wales, [...] an attractive house at Shanklin, Isle of Wight, and [...] a house and grounds situated in one of the most beautiful parts of the West Highlands.' With photographs of the first two properties, and a type facsimile of Drummond's signature. Perforated reply slip at foot of last page. Begins 'The great pressure upon the accommodation of the Guest-Houses of the Association last year and indications of a probable still greater pressure in this and future years, make it clear that additional centres must be established.' No listing in COPAC.
Phone enquries
RICHARD M. FORD
Tel: +44 20 8993 1235