Autograph Letter Signed ('Helen Mathers. | (Helen Reeves)') to unnamed male correspondent.
Author:
Helen Mathers' [pen name of Ellen Buckingham Mathews (1853-1920); Helen Reeves; Mrs. Reeves], English popular novelist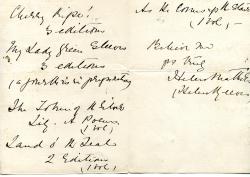 Publication details:
1 December 1879; on letterhead of 6 Grosvenor Street, [London] W.
SKU: 8259
12mo, 3 pp. Bifolium. Spike hole through both leaves, not affecting text. Fair, on aged paper. She states that 'The story would be ready to commence the 2nd. week in March.' She then gives a list of her five 'other works besides Comin' thro the Rye'. The first two in the list are said to have passed through '3 editions', and of the second in the list 'a further is in preparation'.
Phone enquries
RICHARD M. FORD
Tel: +44 7884 315 545