Letter, headed 'Copy', in contemporary hand, from 'X.' to 'Mr. Editor' [of Punch].
Author:
Punch, or The London Charivari' [Mark Lemon (1809-1870), editor; John Leech; Charles Kean; William Williams (1788-1865), Radical M.P. for Lambeth]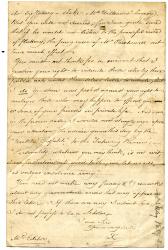 SKU: 8261
12mo, 4 pp. Bifolium. Watermarked 'TOWGOOD'S | SUPER FINE | 1859'. Eighty-seven lines of text. Text clear and complete on aged and grubby paper. With little hope of influencing the editor of Punch, the author feels compelled to 'write and tell you what I and many others think about your Publication and the malignant spite you display towards individuals who happen to incur your wrath'. This 'malignity', he feels, 'must be derived from that murderous old ruffian from whom your publication takes its name, and which alone prevents it being an influential publication. Men laugh at the jokes in it, and admire the skill of Mr. Leech and his assistants, but II have yet to find the Man whose opinions were ever changed by anything he saw in "Punch".' He gives two examples of 'many instances of individuals who have been persecuted' by the magazine: the actor Charles Kean and 'Mr Williams of Lambeth'. What had Kean 'done to incur the wrath of "Punch"? Simply offended one of its staff'. As for Williams, he had stated, 'in a Speech to the Electors of Lambeth [...] that he had been offered a Title which he rejected - now that was nothing but the truth, for you know very well that a Baronetcy really was offered to Mr Williams and rejected'. The author accuses 'Punch' of being 'ready enough to make yourself a mere tool of corruption [...] trying to do that by ridicule which those in power could not do by flattery'. Quotes 'the advice given this day by the "Weekly Dispatch" to the "Saturday Review", before concluding 'You need not make any funny (?) remarks about any grammatical errors that may appear in this letter. If there are any I admit them, for I do not profess to be a Scholar'.
Phone enquries
RICHARD M. FORD
Tel: +44 7884 315 545