Wytsman's catalogue no. 9, in French, titled 'Entomologie'.
Author:
P. Wytsman, science bookseller, Brussels [entomology]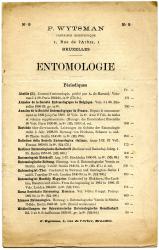 Publication details:
P. Wytsman, Librarie Scientifique, 1, Rue de l'Arbre, Bruxelles.
SKU: 8580
8vo, 8 pp. Unbound. An unopened leaf, folded twice to make four leaves. Text clear and complete. On aged and worn paper.
Phone enquries
RICHARD M. FORD
Tel: +44 20 8993 1235