Offprint titled 'Pulmonary Amoebiasis.'
Author:
Philip Manson-Bahr, D.S.O., M.D. Camb., F.R.C.P. Lond., Physician to the Hospital for Tropical Diseases and Albert Dock Hospital; Lecturer, London School of Tropical Medicine [tuberculosis]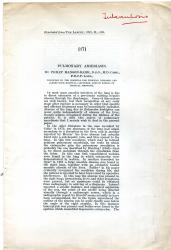 Publication details:
'Reprinted from THE LANCET, 1923, II., 599.' [The Lancet Office, 1, Bedford Street, Strand, W.C. 2.']
SKU: 9242
8vo, 8 pp. Stitched. Good, on lightly-aged paper. Three charts and list of references at end.
Phone enquries
RICHARD M. FORD
Tel: +44 20 8993 1235