Three Autograph Letters Signed (two 'Leonard Walker' and the other 'L. W.') to C. R. Grundy, concerning a stained-glass window.
Author:
Leonard Walker (1877-1964), Principal of the St John's Wood School of Art, and member of the Art Workers Guild [Cecil Reginald Grundy (1870-1944), editor of the Connoisseur]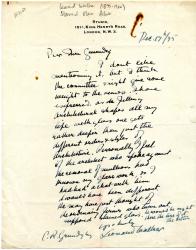 Publication details:
16, 17 and 31 December 1935; all three items on letterhead of Walker's studio in King Henry's Road, London.
SKU: 9261
All three items 8vo. The first of two pages, and the other two of one page each. Texts clear and complete. Fair on aged, creased and slightly-discoloured paper. Discussing his disagreement with the architect of a building over the width of two proposed uprights. Walker considers that these 'would handicap the fullest expression'. The first letter carries a simple pencil diagram of the window. He feels 'we shall all have forgotten this point' when the window is seen 'in all its glory'. In the second letter he boasts of having filled 'architectural shapes all my life with glass', this having got him 'rather deeper than just the different orders & styles of Architecture'.
Phone enquries
RICHARD M. FORD
Tel: +44 20 8993 1235