Part of an Autograph Letter, Third Person, to Richard Dighton, artist.
Author:
[Prince of Wales; Albert Edward; Edward VII] W.Knollys, Private Secretary to the Prince of Wales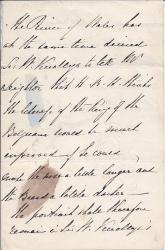 Publication details:
Place and date not present.
SKU: 9870
Two pages, 12mo, one stain, fold marks, sl. grubby, text clear, as follows: The Prince of Wales has at the same time desired Sir W. Knollys to tell My Dighton that H.R.H. thinks the likeness of the King of the Belgians would be much improved if he could make the nose a little longer and the beard a little darker -- The portrait shall therefore remain in Sir W. Knollys's room should nr Dighton wish to take it away with the view of making the improvements which the Prince has suggested. A list of names in pencil (Dighton's hand) has been added, including Thomas Baring and Combermere.
Phone enquries
RICHARD M. FORD
Tel: +44 7884 315 545