Autograph Letter Signed from the Scottish novelist Catherine Sinclair to Lady Deas, wife of the judge Sir George Deas.
Author:
Catherine Sinclair (1800-1864), Scottish novelist [Sarah, Lady Deas [born Sarah Outram], wife of Sir George Deas (1804-1887), Lord Deas, Scottish judge]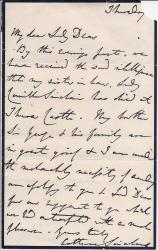 Publication details:
'Thursday' [April 1863]; place not stated.
SKU: 10804
12mo, 1 p. Mourning border. Twelve lines. Text clear and complete. Fair, on aged paper, with small scrap torn away from top right-hand corner. By that evening's post, they have received 'the sad intelligence that my sister in law, Lady Camilla Sinclair has died at Thurso Castle'. Her brother Sir George Sinclair and his family 'are in great grief', and she is 'under the melancholy necessity of sending an apology' for cancelling 'our engagement to you which we had anticipated with so much pleasure'.
Phone enquries
RICHARD M. FORD
Tel: +44 20 8993 1235