Woven silk portrait of Adolphe Thiers by J.-B. Champrony of Saint-Étienne, on printed backing, as a souvenir of the Exposition Universelle, Paris, 1878.
Author:
J.-B. Champromy, Fabricant à Saint-Étienne, Portraits et Cravates en Soie [Exposition Universelle, Paris, 1878; Adolphe Thiers]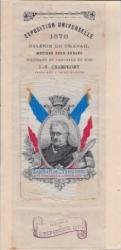 Publication details:
[Exposition Universelle, Paris, 1878.]
SKU: 10928
[Stevengraph] Piece of silk, 7 x 11 cm, woven in red, white, blue, black and gold. Portrait of a bespectacled Thiers in an oval, draped with two French flags, with decorations including a quill and a book, and topped by castellated coronet and banner reading 'A. THIERS'. Woven beneath the portrait is 'LIBERATEUR DU TERRITOIRE | 1ER PRESIDENT DE LA REPUBLIQUE'. Laid down on original printed bookmark, reading 'EXPOSITION UNIVERSELLE | 1878 | GALERIE DU TRAVAIL | METIERS POUR RUBANS | PORTRAITS ET CRAVATES EN SOIE | J.-B. CHAMPRONY | FABRICANT A SAINT-ÉTIENNE'. Stamped at foot: 'Souvenir de L'EXPOSITION 1878'.
Phone enquries
RICHARD M. FORD
Tel: +44 20 8993 1235