Autograph Letter Signed ('E. Herbert') from Lady Elizabeth Herbert to 'My dear Bishop' [probably Samuel Wilberforce, Bishop of Oxford], regarding a vote in the House of Lords, and 'base & ungenerous treatment' of Lord Sydney.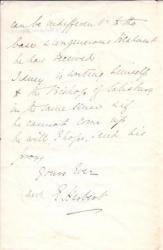 Publication details:
11 May 1858; on letterhead of 49 Belgrave Square.
SKU: 10961
12mo, 2 pp. Fair, on lightly aged and creased paper. Although it is 'unnecessary' , she is writing 'in Sidney's name to implore for your Vote & interest on Friday next as against the Govt. - Independently of the grave question at issue as regards India no friend of Lord Canning's can be indifferent to the base & ungenerous treatment he has received'. Sidney is writing to the Bishop of Salisbury 'in the same sense', and if he cannot come to London for the vote, he will, she hopes, 'send his proxy'. Docketed on reverse 'Authoress'. Probably from a collection of Wilberforce papers (one other example on the inventory).
Phone enquries
RICHARD M. FORD
Tel: +44 20 8993 1235