Autograph Letter Signed ('E. Napier') from Lieutenant-Colonel E. Elers Napier to his bookseller [George Routledge?], concerning his 'theory as to the "Sources of the Nile"'.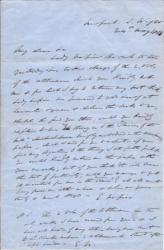 Publication details:
24 May 1853; Newport, Isle of Wight.
SKU: 10978
Folio, 1 p. Twenty-three lines. Text clear and complete. Good, on lightly-aged paper. His mother Lady Napier, who went to town the previous day, has 'taken charge of the 2 Vols of the Athenaeum' his correspondent sent him. 'Lady Napier has promised to call herself at Leicester Square & deliver the books to you'. If he should be in when she calls, Napier asks him to 'explain to her my theory as to the "Sources of the Nile", briefly embodied in the accompanying paper'. He asks him to either return the paper 'with your marks', or, if he thinks 'it will bear the test of publicity, could you manage to get it inserted for me in the "Times"?' In a postscript initialled 'E. N.' he states that the Athenaeum volumes are the only ones he has received, '& I have not heard of any others having been sent to Sir Charles Napier in Albemarle Street after I left London'. A long letter by 'E. ELERS NAPIER, Lieutenant-Colonel. | Braiswick-lodge, Colchester, June 28.', headed 'THE SOURCES OF THE NILE', was published by The Times on 30 June 1853. The identity of the correspondent is uncertain: At this time Routledge's shop was in Ryder's Court, Leicester Square.
Phone enquries
RICHARD M. FORD
Tel: +44 20 8993 1235