[Anne Chamberlain, wife of British Prime Minister Neville Chamberlain.] Autograph Note Signed on her Downing Street calling card, thanking the recipient and 'Major Cripps' for 'lovely carnations'.
Author:
Neville Chamberlain's wife Ann Chamberlain [Anne de Vere Chamberlain (née Cole), 1883-1967); Arthur Neville Chamberlain, British Prime Minister (1869-1940), widely condemned as an appeaser of Hitler]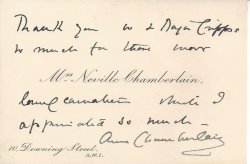 Publication details:
No date, but calling card with printed address 'Downing Street, / S.W.1.' and so during her husband's premiership, 1937 to 1940.
SKU: 24326
On 11.5 x 7.5 cm calling card. In good condition, lightly aged. The calling card is printed in copperplate font, with the name 'Mrs. Neville Chamberlain.' centred, and the address '10, Downing Street, / S.W.1.' at bottom left. Two lines of the inscription are written above the name and the rest beneath. Reads: 'Thank you so [sic] & Major Cripps so much for those more lovely carnations which I appreciated so much. / Anne Chamberlain'. See image.
Keywords:
Phone enquries
RICHARD M. FORD
Tel: +44 7884 315 545