[Donald Maxwell; Inscribed to the Dean of Rochester; drawing added by Maxwell] A Painter in Palestine : Being an Impromptu Pilgrimage through the Holy Land with Bible and Sketch-Book / by Donald Maxwell ; with a Foreword by the Dean of Rochester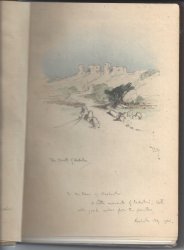 Publication details:
London; John Lane: The Bodley Head, 1921.
SKU: 24807
[xxii.164.[4 list of other works by author]. With illustrations, 10 plates and 36 Line Sketches, Maps and Plans. Condition mainly good but ink stain and some light rucking on cover. WITH (on a front free ep); original drawing by Maxwell of The Streets of Askelon with inscription to the Dean Of Rochester, To the Dean of Rochester | A little memento of Palestine with all good wishes from the painter, | Rochester May 1921. SEE IMAGE.
Keywords:
Phone enquries
RICHARD M. FORD
Tel: +44 7884 315 545