[CSS Alabama, Confederate sloop-of-war raider, Captain Raphael Semmes, sunk in 1864 by USS Kearsarge.] Steel engraving by Henry Bryan Hall of depicting seven of the ship's officers.
Author:
[CSS Alabama, Confederate sloop-of-war, Captain Raphael Semmes, sunk in 1864 by USS Kearsarge] Henry Bryan Hall (1808-84), Anglo-American engraver; Kelly, Piet & Co., Baltimore publishers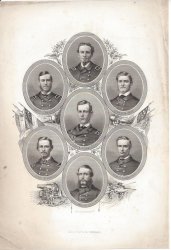 Publication details:
[1869.] Kelly, Piet & Co., Baltimore.
SKU: 24829
A painting by Manet of the celebrated engagement between the Alabama and the Kearsarge was finished and exhibited before the end of 1864. It now hangs in the Philadelphia Museum of Fine Art. The present item is a steel engraving, dating from five years later, on a small 8vo piece of thickish wove paper. In good condition, on lightly aged paper, with slight discoloration and creasing to the blank edges. At the foot of the engraving is the name of the publishers, 'Kelly, Piet & Co. Baltimore' (it appeared in their 1869 book, 'Memoirs of Service Afloat, during the War between the States. By Admiral Raphael Semmes, of the late Confederate States Navy'). It consists of an arrangement of seven oval portrait busts 'Engd. by H. B. Hall Jr N.Y.', with central portrait surrounded by slightly smaller ones, and decoration of flags, guns and foliage. At centre 'Lieut. R. F. Armstong', and around this, clockwise from the top: 'Lieut. A. Sinclair', 'Midn. E. Maffit', 'Midn. E. R. Anderson, 'Mastr. Mate. G. T. Fullam', 'Lieut. B. Howell', 'Mastr. J. Bullock'. Note: This image may be found also on the website of the Naval Historical Center: Confederate States Navy Officers,who served with Raphael SemmesLine engraving by H.B. Hall, Jr., New York, featuring portraits of seven officers who served with Semmes in CSS Alabama and were present during her engagement with USS Kearsarge.In center is Lieutenant Richard F. Armstrong.The others are (clockwise from top):Lieutenant Arthur Sinclair, IV (or Jr.);Midshipman Eugene A. Maffitt;Midshipman Edwin M. Anderson;Master's Mate George T. Fulham;First Lieutenant (later Captain) Becket K. Howell, Marine Corps; andActing Master Irvine S. Bulloch.Howell and Armstrong also served with Semmes in CSS Sumter. See Scan.
Keywords:
Phone enquries
RICHARD M. FORD
Tel: +44 7884 315 545