[The man who saved William of Orange from capture: Brigadier General Henry Lumley.] Autograph Signature ('H Lumley') to Exchequer receipt for £25. With signature of witness John Letton.
Author:
Brigadier General Henry Lumley (c.1658-1722), army officer and Member of Parliament, brother of Richard Lumley, first earl of Scarborough; John Letton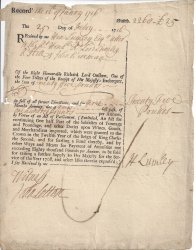 Publication details:
12 January 1716. [His Majesty's Exchequer, London.]
SKU: 24832
See his entries in the Oxford DNB and History of Parliament, the former of which notes his 'high reputation for courage' and his presence 'at Neerwinden and Landen in 1693, covering the retreat on 19 July, and saving William III from capture by the enemy'. 1p, 8vo. On aged and worn paper, with chipping to edges and pitting along a horizontal central line, but with both signatures clear and unblemished. The customary printed document, completed in manuscript. Records in a secretarial hand, the receipt of £25 by 'Hen: Lumley Esqr. attor to the Rt. Honble Rd Lord Lumley Rd Hill & John Wiseman'. Signed towards bottom right 'H Lumley', and towards bottom left 'Witness / John Letton'. See Image.
Keywords:
Phone enquries
RICHARD M. FORD
Tel: +44 7884 315 545