[A.E.F. Horniman; Abbey Theatre, Dublin, etc.] Autograph Letter Signed to unknown correspondent (Madam. See note below), about her past, the great fire in the Crystal Palace and the historical lack of orchestral concerts.
Author:
A.E.F. Horniman [Annie Elizabeth Fredericka Horniman CH (1860 ? 1937), English theatre patron and manager. She established the Abbey Theatre in Dublin, etc.]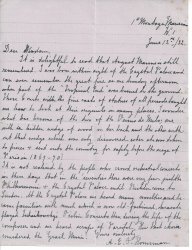 Publication details:
I [H?] Montagu Mansions, W.1., 12 June,1932.
SKU: 25054
One page, cr. 8vo, fold marks, faint foxing, good condition. See Image. Text: It is delightful to read that August Manns [conductor - see Wiki] is still remembered. I was born within sight of the Crystal Palace and can even remember the great fire on one Sunday afternoon when part of the 'Tropical End' was burned to the ground. Those Courts [with?] the fine casts of statues of all periods taught me how to look at their originals in many places. I wonder what has become of the two of the Venus de Milo; one with a hidden wedge of wood on her back and the other without that wedge which was only discovered when she was take to pieces & sent into the country for safety before the siege of Paris in 1869-70? | It is not realised by the people who crowd orchestral concerts in these days that in the 'seventies there were very few - just the Philharmonic & the Crystal Palace until [Richler? Presumably Johann Baptist Isidor Richter] came to London. At the Crystal Palace we heard many novelties and became familiar with much which is now old-fashioned. Sarasati played Tchaichovsky's [sic] Violin Concerto there during the life of the composer and we heard scraps of 'Parsifal'. How that choice murdered the Grail Music! Yours sincerely | A.E.F. Horniman. Note: Many letters in the same auction lot as this were addressed to Marion Scott [Marion Margaret Scott (16 July 1877 ? 24 December 1953) was an English violinist, musicologist, writer, music critic, editor, composer, and poet.]. Perhaps she is the Madam of this letter.
Keywords:
Phone enquries
RICHARD M. FORD
Tel: +44 7884 315 545