[Deborah Kerr, Hollywood film star from Scotland, six-time Oscar nominee.] Autograph Inscription Signed, beneath pencil sketch portrait of her by Kenneth Sephton, with a second portrait overleaf.
Author:
Deborah Kerr, stage name of Deborah Jane Trimmer (1921-2007), Hollywood film star from Scotland, nominated six times for the Academy Award (Oscar) for Best Actress [Kenneth Sephton]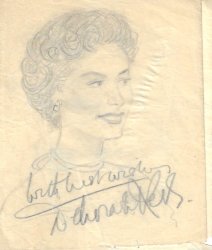 SKU: 25311
See her entry in the Oxford DNB. The inscription, firmly-written in pencil, reads, 'With best wishes / Deborah Kerr.', and is written beneath a pencil portrait of a smiling Kerr's face and shoulders, competently-executed in typical fifties style. On recto of 10 x 12.5 cm leaf of a tracing paper bifolium, the verso of the second leaf carrying, upside-down, an outline sketch of Kerr. The paper is somewhat creased and worn. An unusual item, which - from the positioning of the signature - Kerr evidently signed after the execution of the portrait, thus providing it with a manner of endorsement. From the Kenneth Sephton papers. See Image.
Keywords:
Phone enquries
RICHARD M. FORD
Tel: +44 7884 315 545