[DICKENSIANA. Set of six 'Pickwick Papers' shadow casters (Mr Pickwick; Mr. Weller, Senr., Sam Weller, Jingle, [J]ob Trotter, Fat Boy) on card, four of them with dark areas carefully cut away, of which one is completed.
Author:
DICKENSIANA. Six 'Pickwick Papers' shadow casters. [Charles Dickens; Magic Lantern Show]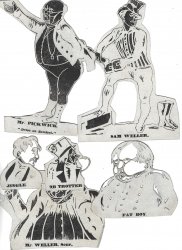 Publication details:
No date. [Edwardian?] London?
SKU: 25381
A set of six scarce pieces of unusual Dickensiana. Difficult to date: the nature of the illustrations (printed in negative) gives them a modernist feel, but their purpose would place them before the 1920s. The six items, printed in black on pieces of grey-white card, range in size from 12 x 16.5 cm ('SAM WELLER.') to 4.5 x 6 cm ('JOB TROTTER'). In good condition, lightly aged. Four of the six have soot stains on their blank reverses, presumably caused by the hot lantern. The images comprise representations of the characters, with captions printed beneath them in heavily-leaded Victorian-style type. The outlines of all six have been cut away, in the fashion of characters from a toy theatre, and they all have black areas on them which are meant to be cut out in order to project shadows onto a wall. Mr Pickwick (the only figure with a sub-caption: '"Drive on Samivel."'), for example, stands in half-profile, with his left arm behind his back pushing up his jacket, and his right hand gesticulating upwards. The hand, torso, breeches and face are all printed in black, while the jacket and outlines of the features, jacket, boots, spectacles and features are all left white. The possessor is meant to cut away at the black areas, thus turning the illustrations into stencils. This a previous owner has started to do in three cases ('SAM WELLER.', 'Mr. WELLER, Senr.' and 'JINGLE.'), and completed in one ('FAT BOY.'), exhibiting no small degree of skill with the scalpel. These items are scarce: no other copy has been traced. See Image.
Keywords:
Phone enquries
RICHARD M. FORD
Tel: +44 7884 315 545